Drive X RV - WeBoost
Explore the great outdoors and visit destinations across North America—all without worrying about cellular connectivity with weBoost's Drive X RV cell signal booster. It's designed for use in all RV classes—particularly Class A and Class C, as well as towable campers and travel trailers.
Backed by up to 50 dB max gain and its enhanced, modular outside antenna, the Drive X RV delivers the strongest cell signal possible on all available network speeds—whether you're parked at a campsite or cruising the interstate. Using a patented smart technology that senses signal conditions in and around your RV, the Drive X RV automatically optimizes and adjusts the booster's capability to facilitate its unwavering performance. Users enjoy fewer dropped calls, better voice quality, faster data speeds, enhanced streaming, and improved hotspot capability.
The Drive X RV kit comes with everything for DIY installation—including 25 feet of RG-6 cable. With the side-exit adapter and additional mounting hardware, the outside antenna easily fits a universal CB-antenna mount or any 1"-2" exterior RV ladder pole. Like all weBoost boosters, Drive X RV works with all cell phones, hotspots, cellular-connected tablets, and other cell devices on all US mobile carriers—including Verizon, AT&T, T-Mobile, and Sprint.
Feel confident about staying connected in remote locations with the weBoost Drive X RV.
Warning: Cancer and Reproductive Harm - www.P65Warnings.ca.gov
Features
Up to 50 dB max gain, the maximum amount allowed by the FCC.
Equipped with a 25-ft. length of RG-6 cable to the outside antenna.
Versatile, modular antenna design with a 9.5"–28.5" height range.
Additional hardware includes spring base and side-exit adapter.
Benefits
Boosts existing cell signal more effectively when it matters most.
Allows for optimal placement within even the largest-sized RVs
Elevates outside antenna above any RV cab to optimize performance.
Offers more mounting options and added durability in high wind.
How It Works
Signal boosters increase cell signal by collecting signals with a powerful antenna, delivering those signals to the booster, amplifying the cell signals so your devices receive them, and delivering your device's boosted signals back to the cell tower.
The booster reaches out to the cell tower to access voice, text and data signals while parked.
The booster receives the outside signal, amplifies it up to 32x and sends it to the inside antenna.
The inside antenna broadcasts the boosted signal to devices inside the RV
Specs
Model Number:
471410
Frequency
Band 12/17 700 MHz
Band 13 700 MHz
Band 5 850 MHz
Band 4 1700/2100 MHz
Band 2 1900 MHz
Max Gain
50 dB
Power Req
12VDC
Connectors
SMA Female
Dimensions
6.25 x 4.25 x 1 in
Weight
.8 lbs
Price
$

 

499.99
In the box
Each device comes with everything you need for a complete installation. You can also pick up extra parts to extend your installation, if you need help, just give us a call.

Drive X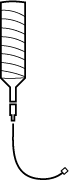 Drive X RV Outside Antenna (311224)

Drive X RV Inside Antenna (311160)

25' Black RG-6 Cable (950625)

AC/DC Wall Power Supply (850011)

Hardwire DC/DC Power Supply (851111)

Mast Extension, Side-Exit Adapter & Spring

Outside Antenna Ladder Mount

Installation Accessories